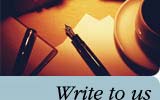 If you are interested in our services, or you have questions or comments, please let us know. We will be happy to attend to your enquiries.

To contact us just fill-in the form here below and mention the most appropriate contact.

Thank you for your interest in using our services.